(Click here to see the delegate profile for Sommer Isdale, Miss Texas Teen USA 2007)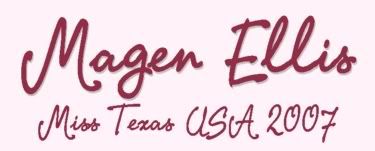 ---
---
Magen Ellis
20 (born October 11, 1986)
Houston, Texas
Top 10 Miss Texas USA 2006, Miss Texas Teen USA 2004
Top 15 at Miss Teen USA 2004
Semi-finalist, Miss Texas Teen USA 2003
3rd runner-up, Miss Texas Teen USA 2002
Top 10





Magen is a second-year student of Communications and Spanish at the University of Houston and she enjoys a successful modeling career. She has appeared on several magazine covers and has been featured in numerous ads, including an international VISA campaign, which targeted the Latin community and ran in magazines such as People in Espaņol, Vanidades, Latina, and Shape en Espaņol! She has also filmed commercial spots for Academy Sports and Outdoors, FitTV, and the MM Card. An admirer of Katie Couric, Magen aspires to a career as a television news anchor on a major network.

An enthusiastic volunteer, Magen has lent her support to numerous community and charitable organizations including the Texas Masons, UNICEF, M.D. Anderson Cancer Center, Race for the Cure, Miss Wheelchair Texas Foundation, the Tre Rice Foundation, and Princess for a Day. In conjunction with her fitness trainer, Magen has set out to educate and motivate young people by speaking in schools about childhood obesity, encouraging healthy dietary and exercise habits.

In her free time, Magen enjoys exercising, keeping a journal, cooking, and traveling. One of her wishes is to travel abroad to further her Spanish speaking skills.

Click on photos to view full-size.




Click on photos to view full-size.


| | | | | | |
| --- | --- | --- | --- | --- | --- |
| Magen winning Miss Photogenic | Magen is announced into the top 15 | Gown | Swimsuit | Top 5 Interview | |

With Raevan Valadex (TX TUSA 06) and Al Clark




Click on photos to view full-size.




Click on photos to view full-size.


| | | | |
| --- | --- | --- | --- |
| In the Alfred Angelo Bridal Booth at Bridal Extravaganza at Houston (07/22/06) | Scottish Rite Hospital in Dallas (07/26/06) | Magen and Mom, Celyna, meet Governor Rick Perry (08/01/06) | Mayor Bill White proclaims "Magen Ellis Day" (08/01/06) |
| | | | | |
| --- | --- | --- | --- | --- |
| Magen visits the Home Depot at Sugar Land (08/07/06) | Volunteering with Habitat for Humanity at Tyler (08/24/06) | Magen meets former Speaker of the House, Newt Gingrich, at an appearance for Rinnai Corporation in Dallas (09/14/06) | CISD Red Ribbon Rally in Los Fresnos (10/28/06) | Welcome to Harlingen by Mayor Rick Rodriguez (11/06/06) |
| | | |
| --- | --- | --- |
| Sunrise Mall, Brownsville (11/11/06) | With Katie Blair at Miss Texas Teen USA 2007 (11/26/06) | With newly crowned Sommer Isdale at Miss Texas Teen USA 2007 (11/26/06) |



Click on photos to view full-size.

Miss Texas Teen USA 2002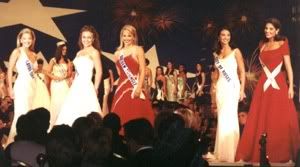 Top 5: Ashley Doughtie, Brittany Tiner, Jennifer Nolan, Magen Ellis, Lindsey Harvey
Miss Texas Teen USA 2003

Headshot
Miss Texas Teen USA 2004
| | | | | | |
| --- | --- | --- | --- | --- | --- |
| Headshot | Interview Suit | Gown | Swimsuit | Crowning | Crown Shot |
Miss Teen USA 2004
| | | | | |
| --- | --- | --- | --- | --- |
| Official Fadil Berisha photo | Official Photo | Introduction | Swimsuit | Prelim Gown |


Questions? Comments? Concerns? Feel free to email me! xpageantupdate@gmail.com
Website design (C) "x" | Images are the copyrighted property of their respective owners | View this website's privacy policy